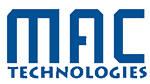 MAC Technologies, established in 2012, has made it's mark as a well established and sound company driven by the industry's highly professional and trained individuals and is surely headed in becoming a leading organization which facilitates, enhances and provides measurable business value to customers through most effective uses of technology and Resources to organizations globally.
With its Dynamic Infrastructure approach, the company offers a full portfolio of IT Products, Services, Software Solutions, ranging from clients to datacenter solutions, Managed Infrastructure and Infrastructure-as-a-Service.
On consumer side, MAC-Tech provides E-Commerce Solution as Exclusive Store for nation-wide payment and delivery options.
On Software Solution side, MAC Technologies is fast-moving company in Client Solution Management in Information Technology. As a Development & Design expert company we provide superior Software, Web, Mobile and Creative Designing solutions and services to companies globally.
MAC Technologies is partners with IBM, Fujitsu, Acer, Lenovo, Microsoft, Huawei, Cisco, APC and other International brands in Pakistan.
We strive to provide you with the best solutions to your business system needs. As our client, we place great emphasis and focus on your problems and goals and develop solutions that best fits your needs. We offer strong and effective solutions to your business with an enduring impact. We think of ourselves as your long-term partner.
As partners, we will ensure your business needs are carefully evaluated and will decide the best methods to represent your company, and develop a strong and effective solution for your business that will have an enduring impact.